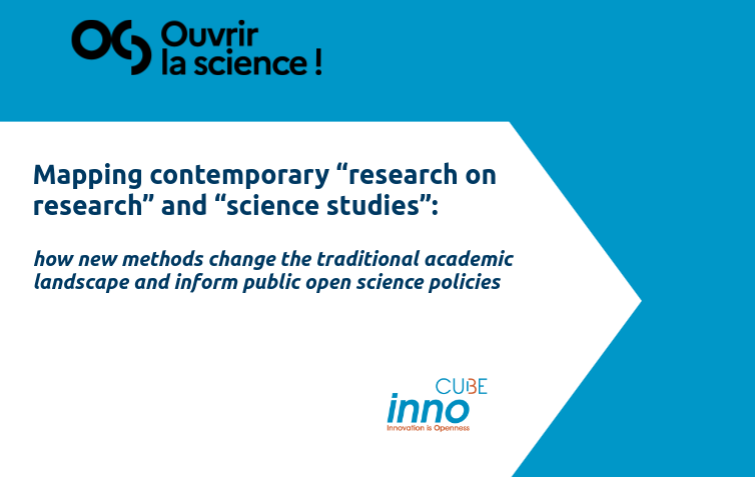 "Research on research" exploratory study
Abstract
One of the ambitions outlined by France's second National Plan for Open Science (July 2021), was to create an Open Science Lab dedicated to developing "research on research" with a focus on open science and with the objective to inform French public policy decisions. As part of the groundwork for setting up this Lab, the French Committee for Open Science called for an exploratory study to better understand the international scope and context of "research on research" (RoR), and its connections with open science as well as other research currently being carried out in metascience, science of science, and science and technology studies.
Far from presenting a static landscape, the study found that while some research on science and scientific communities are based on well-established, pre-existing academic fields and methods, other more recent trends (metascience, metaresearch, RoR, etc.) have adopted a prescriptive commitment to fostering better and more open science. It highlights contemporary research debates on research and science around key issues such as reproducibility, evidence-based policy, integrity and inclusivity. It also echoes some community-issued concerns about "reinventing the wheel" when it comes to studying science, scientific communities and their productions.
Within the scope of the Second National Plan for Open Science, the Committee for Open Science wished to conduct a study on the foreshadowing of an Open Science Lab (LabSO) in order to improve our understanding of the scope of research on research in an international context.
The study meets three objectives :
Identify the major currents of research on research (RoR) in the wider landscape of academic research in Europe and across the Atlantic, recognize the main institutional actors and distinguish the approaches used by each of them;
To propose a methodology of investigation in an open science process (mixed methods and digital cartography) to enable the appropriation of its content;
Provide recommendations to help establish LabSO's position and learn from successful initiatives.
The entire study was conducted using an open science approach and mixed methods (qualitative and quantitative).
A series of thirteen interviews and a massive collection of URLs enabled us to build a digital cartography to identify and visualize the existing connections between different communities, movements, networks and initiatives (funders, projects, research centres, data providers, publishers, etc.) involved in research on research.
We hope that this study will help to better understand the current landscape of "research on research" and its intersections with current research and actions on open science. We would like to thank all the people that accepted to participate in the interviews and the review of this report (see credits).