Getting lawyer to discuss together in an Open Source Compliance approach [EOLE 2023]
Ce billet est une synthèse du premier atelier d'EOLE 2023 qui s'est tenu le 22 mai 2023 en ligne et à Paris dans les locaux d'inno³. Le premier atelier avait pour thématiques les moyens pour amener les juristes à collaborer dans une approche « Open Source compliant » et était animé par Benjamin Jean. Pour plus d'informations pratiques sur cet atelier et sur l'évènement EOLE en général, vous pouvez lire ce blog post associé.
EOLE étant un évènement anglophone et regroupant différent.e.s acteur.rice.s européen.ne.s, cette synthèse est uniquement disponible en anglais.
Presentation of EOLE 2023
The European Open Source and free Software Law Event (EOLE) is a unique event with a legal dimension, welcoming lawyers working with open source models, as well as all other international actors interested in these topics.
The event aims to promote the sharing and dissemination of legal knowledge on Free & Open Source Software (FOSS) licences, as well as the development and promotion of good practices in the field.
The main problematic this year is to understand the issues and procedures involved in moving to a shared approach on a global scale. To think in terms of synergies, mutualization or at least convergences between the different communities mobilized on these subjects. To resume, we want to think about how community-approaches can strengthen FOSS compliance, how organisations and users can work together using open source tools & best practices, how persons from different fields can work together to achieve a common goal.
Few preliminary works are organised, in order to allow informal exchange between lawyers to identify and challenge the main issues related to this year's topic. The discussion of the workshops and of the forum will support the discussion of the final in person one-day-long workshop in December (Paris).
Introduction of the workshop – « How collaborative and community driven compliance approaches allow lawyers to work together »
Goals of the workshop :
Think how lawyers can work and produce together in an open source compliant approach (tools and practices),
Thinking about the role of lawyers regarding Open Source compliance, framing what is legal, compliance or strategy.
Discuss the targets, what kind of OpenSource-like projects (or even digital commons) should be designed in order to support Open Source compliance.
Context and examples :
There is a real trend in favour of designing new legal (or compliance) standards (Open Chain, SPDX, ReUSE, etc.). This is an opportunity to encourage pooling and collaboration, but also a risk to impose rules and operating procedures that are adapted to certain stakeholders (in particular industrial companies) and not others (in particular communities or independents).
At the same time, there are a number of bottom-up initiatives that are still little known or analysed, and which may not yet be sufficiently advanced to really bring the benefits of Community adoption.
One of the big issue of Open Source compliance is to understand each other : mainly technical and juridical team. A participant describes his work on this field. He is producing a glossary, aiming at supporting the use of the project Hermine within technical and legal teams, in order to reach more efficient discussion between technical and legal team. As a boundary-object, Hermine put together many concepts regarding Open Source compliance, open source licences, technical infrastructure or exploitation, legal or technical considerations. The goal is to have a global glossary compatible with Hermine and useful for internal FOSS policies. It will be complemented by previous work (like the work done by FTF legal network few years ago).
Working session – Brainstorming circle
Main goals of this session were to :
Challenging collectively the idea of legal community-driven project for and thanks to Open Source,
Sharing a first list of ideas and actions in order to collect more feedback.
How does it work ?
First circle (center in red) : Why it is important (and it is a challenge) to imagine FOSS compliance through community approaches ?
Second circle : How can we solve ?
Third circle : What can we do ? What kind of concrete action can we do in order to answer to previous questions (Why and How) ?
Why – Arguing for an open approach to Open Source compliance
Legal issues
There is not a lot of European jurisprudence on this issue, we need to work together in the EU as a (legal) community to have a common view and to standardise certain interpretations,
Concurrent approaches to ensure harmonisation. Licences are often subject to different interpretations and there is little case law,
It is hard to find efficient legal knowledge about Open Source (trust issues).
Issues related to the organisation of the ecosystem
As Open Source is based on a horizontal approach, it is important to contribute to the way it might be interpreted by jurisdictions all around the world,
There are various "philosophies" / "community interpretation" with sometimes contradictory answers. There is a need for a consensus,
It takes time, it is complex. A community approach would be more efficient because of the similarities between all individual compliance work.
A context calling for this need
Compliance approach is different from legal approach, we need to come to some kind of consensus to reduce risk for each organisation,
Complete common understanding: the link between technical interactions and legal implications is often difficult to find,
Thinking about easy ways to use legal practices that would be a benefit for both lawyers and other people,
Move forward and more quickly without having to duplicate the work done by others on these issues,
There is a need for a cultural change, and global approaches are needed.
You can participate in the discussion by adding your ideas on our forum !
---
How – Stimulate collaboration between lawyers and with lawyers on Open Source issues
Need of more awareness on the subject by the creation of supports, documentation and discussion group to exchange on various feedbacks,
Inspire from what is already existing, not to reinvent the wheel,
Develop new tools to help lawyers interacting with technical teams with unique tools.
You can participate in the discussion by adding your ideas on our forum !
---
What – Sharing legal knowledge and understanding about Open Source licences
Designing a list of interpretations of each licences with legal & scientific ground,
Legal repositories with (anonymous ?) legal content produced all around the world,
Get the inspiration from other projects using wikipedia/Zenodo or similar project in order to share case law (and main legal scientific articles regarding these cases),
Publish Open Source glossary,
Share concrete uses cases of open source compliance approach by organisations and the problems they encountered
Further notice
Create a collaborative FAQ on open source compliance issues and about main use cases (on a gitlab/github project),
Collecting all use cases and different ways Open Source licences are interpreting all around the world,
List all common / open and publicly available resources, suggesting their maintainers a way to work together,
Creating a repository of all existing databases and articulate/converge as possible (link to the feed with all the example),
Encouraging a participatory research-action approach in law to deal with the challenges of Open Source,
Explaining why legal and compliance approaches are different and complimentary in Open Source Policies.
You can participate in the discussion by adding your ideas on our forum !
---
During the session, all the participants were able to add their contributions to the various circles. Here is a report of what was added according to the 3 categories (each represented by a coloured circle).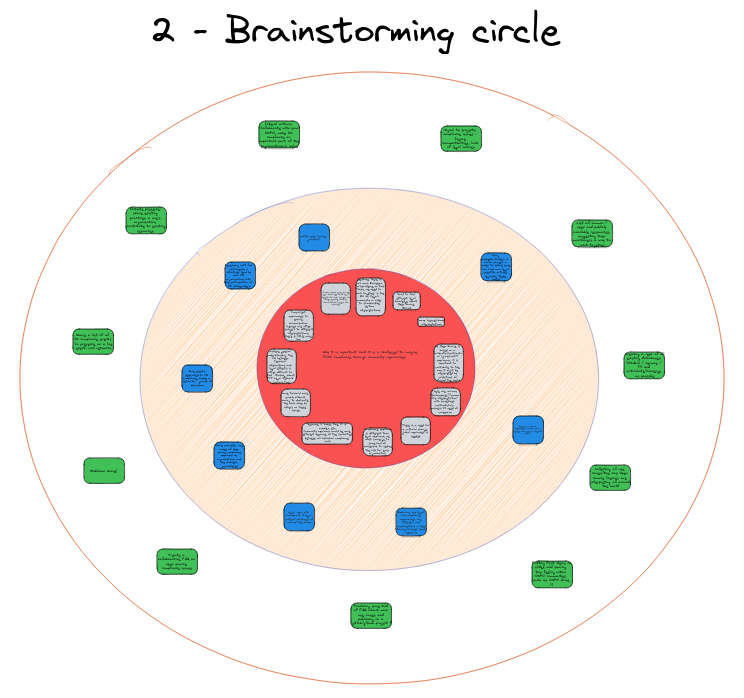 Auteur/Autrice
Ressources associées