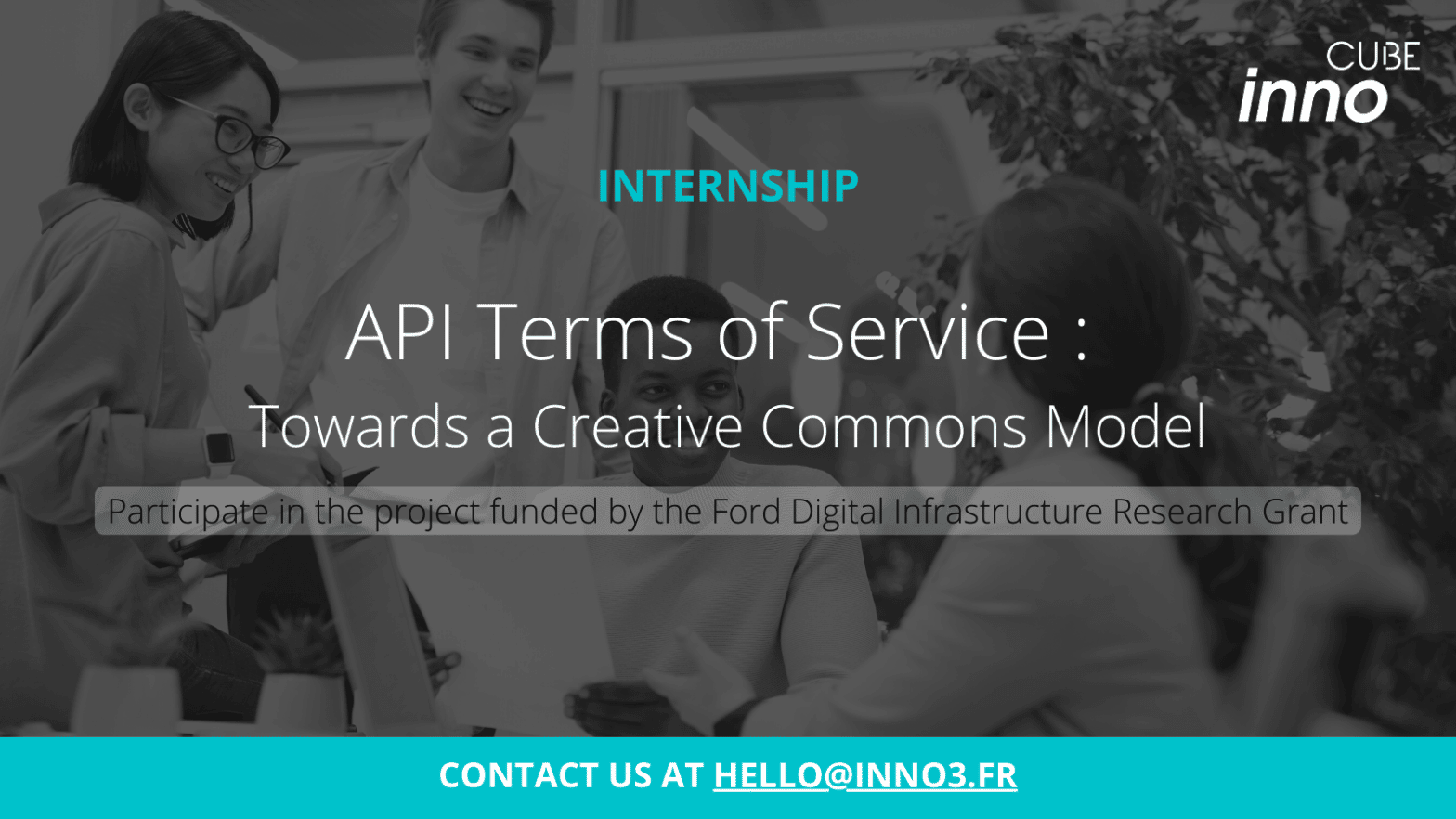 Internship – API Terms of Service : Towards a Creative Commons Model
How can a Creative Commons model for API Terms of Service participate in creating an open, safe and sustainable ecosystem for digital infrastructures?

In order to scale technical, business and legal interoperability between digital infrastructures, the APIToS-CC project aims to build a "Creative Commons" framework for API Terms of Service, as a contract to automatically read, control and enforce APIs Terms of Service between digital infrastructures and applications. API Terms of Service represent a boundary object whose identification of specific clauses and degree of "openness" (on the model of Creative Commons licenses with different degrees of conditions of use) can work towards a better understanding and vigilance regarding the constitution of open, secure, safe and sustainable digital infrastructure ecosystems.
The project started in February 2021 and is funded by a Ford Digital Infrastructure Research Grant. We are now in the second phase of the project (survey and quantitative analysis) before the production of the results (legal framework for APIToS) and their communication.
Missions
As our project intern you will be responsible for :
conducting a survey, following up on preliminary qualitative interviews, and participating in the survey data analysis
contributing the development of a framework of API Terms of Service providers
helping on the legal design of the legal framework in order to understand API terms of service claims more easily
supporting the expert team by writing verbatim and workshop deliverables
attending collective meetings with other Ford Digital Infrastructure Research Grantees
communicating on the project and its results to different stakeholders
Your Profile
Master (1st or 2nd year) in social sciences (Political Science, Science and Technology Studies, Digital Technologies and Design, Legal Studies)
Fluent in English
Interest for Digital Technologies and their socio-political stakes
Curiosity in Open Source and Open Data
You will be co-supervised by two organizations (Les Mainteneurs.org and Inno³). You will work remotely and (if possible) in the co-working space "le 137" (137 Boulevard de Magenta – 75010 Paris – France). You can find more information about the APIToS-CC project here.
Are you interested in this internship? Please contact us at hello@inno3.fr
Title : Internship – API Terms of Service : Towards a Creative Commons Model
Duration : as soon as possible (December 2021) for 6 months (full time)
Department : Research